W
ith the Summer Season winding down, I thought it a good time to offer this Special on my latest print,
"Reynold's Mtn, at Logan Pass, Glacier National Park, Montana"

, framed with a gold embellished sustainable material frame with linen matte and fillet. The print this an Artist Proof, #3/10 signed & numbered with a Certificate of Authenticity.
The
outside
dimensions are 21.5" x 36"
Framed Glacier National Park Print
A collectible piece at a very attractive price of just $375.00 with free shipping included, this piece is normally priced at $450.00. This is a limited offer on this piece only, contact Tom directly via email tomhansonarts@gmail.com or call 509-209-4228.
A
s I mentioned earlier in the year, I'm giving away a free print each season, this is the Summer's Winner of my Free Print Giveaway.
And the Winner's are:
Daniel and Wendy Bermingham

, of Butte, Montana, now residing in Colorado.
Dan & Wendy
This is another one of those cases that puts a smile on my face. Picking Dan's name from the pool was great, you see there are very few folks on the planet that I have known longer than Dan, he and I spent a lot of time as kids growing up in Great Falls, MT. Thanks Dan,
I really appreciate you following my page and art work over the years, and I hope you enjoy your print.
I
'm please to say that I was recently featured in an interview with Argentina's popular online fly fishing site, Fly Dreamers , The article is inserted below..
Thanks Fly Dreamer's for your interest.
Tom Hanson's Fly-fishing Artwork
Interview by Patricio Mac Allister.
Fd: How was life in Montana during your childhood?

Tom:
My dad grew up in Yellowstone Park in the 1920's, he would take us there almost most every summer, one of the earliest memories I have of using a fly rod was on the Madison River just downstream from Madison campground, it was a big time experience for me, I was about 7 or 8 years old, I had a little trout on the line and having quite a time with it, when I heard this commotion across the water, I was waded out from the bank about 10 feet or so, being a little guy, I was about waist deep, I looked up and about 20 yards directly across from me was a Huge Bull Moose towering over me from that distance, pulling his head up out of the water with some branches and vegetation from his mouth, it was a striking site, one I'll remember all my life.
I was fortunate to grow up when and where I did, there was a lot more low-impacted areas in the National Forests, fishing areas were really more accessible then, these days access is more limited and it's highly regulated, and for many good reasons. But, like everywhere these days, development has encroached in to what was pristine natural space.
It seems that the world has discovered the areas I grew up in and created a massive destination recreational fishing business, it has the effect of us feeling somewhat elbowed out of our fishing areas and at times feels a bit like combat fishing, which isn't fun at all. It can take the serenity out of your experience, I'm sure a lot of folks can relate to that, but that's progress and we just have to adapt.
Montana is a big area, so there are still a lot of pristine areas, wilderness areas and you can get away from everyone without much effort, if you know where to go.
Fortunately, myself and a few close buddies still have areas that are known to a few, and they'll remain that way.
Fd: How did you manage to make Art and Fly Fishing merge?Tom
: Both evolved during my childhood, I was raised in Great Falls, Montana on the Missouri River, surrounded with countless rivers, streams, creeks and lakes, it has always been a sportsman's haven. Great Falls has a deep seeded history of art appreciation, as it is the historical home of western art icon CM Russell, which influences everyone with artistic interests.
At the same time my artistic interests were developing I was being exposed to fishing with my friends and family. Fly Fishing and other fishing genres, were first introduced to me as a child by my grandfather and my uncle, being a seasonal sport where I come from, it seemed to occupy most of my time in the summer, where creating art was done mostly during school growing up.
In the beginning, my art was a way for me to express myself in the context of school development, and it played to an audience, and still does. Where my fishing experiences were a more solitary event, an interaction with nature, and for the most part then, a group event with friends or family members for fellowship, a fun time to spend with my fishing and camping buddies!
How did they merge? As long as I can remember I was awestruck with the beauty of fish, and all the unbelievably beautiful encounters with nature I would experience while fishing, as I grew as an artist, it became more a part of my artistic expression.
Now, when I'm fishing, I still enjoy the solitude, but it's impossible to separate the desire to express myself creatively as a result of my natural experience.
The abstract fly's evolved from my interest in the graphic nature of fly designs and how they lend themselves to creating compositions that those who use them can relate to.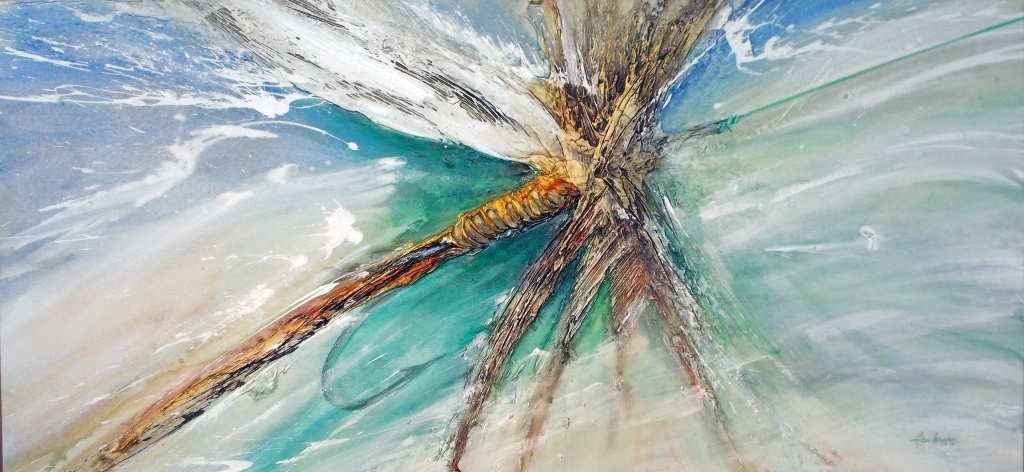 Fd: On what kind of work do you specialize?
Tom
: I specialize in painting originals, acrylic on canvas to start with. Then I publish reproductions from the originals.
One of the signature techniques I use in my painting is the use of "Impasto" textural application I create with modeling paste, it's creating big textures with pallet knives, brushes and other tools, it gives the work a very dimensional quality. I use wet on wet techniques as well, creating washes with the water and paints, to give the work a fluid or wet look, these apply in all my works, be they figurative or abstract concepts.
When creating abstract Fly's, I work from an actual sample of the Fly, sometimes a photo, in creating landscapes or other figurative works, I use photos and sketches of the subject, with abstracts it can often be a spontaneous creative event, which is a lot of fun.
Fd: What would you say your main artistic influences are?
Tom
: From the beginning, other artists work plays a huge role influencing me, many of the contemporary masters have played a huge role, artists like Pollock, Lichtenstein, Stella, impressionists like Monet still motivate me and yes and even western artists like Russell do. I was blessed to study under a number of terrific mentors in Montana growing up, although, if you looked at their work and mine you might scratch your head as there are no similarities. I find the most wonderful little nuances in parts of paintings, I can find inspiration from things like that. That aside, I think the biggest inspiration is in the daily experiences with nature, most commonly sunsets.
Commissioned Art Works
are a motivation in themselves
, influenced
entirely by what the client desires in the works I have created in the past. Lately, I have been creating a lot of custom pieces for Fly Tiers, "Portraits of their Signature Flies in Abstract". When I started with my Abstract Fly Collection in'08, I never would have thought it would have evolved like this, but I love it, and the clients enjoy the process and the finished works
. Note photos attached
Fd: Is there a particular message or feeling you want to convey through your works?
Tom
: Emotional response, hopefully positive, I find that it is an emotional response to a beautiful sunset or scene, or interaction in nature, and that's the plane that we are communicating on.
I look at my Abstract Fly's as an Impressionism, painting more of what I feel that what I see figuratively, obviously some are painted to figuratively represent the subject for a more realistic audience, and when I create a commissioned piece, it's guided by the clients desire, since it's for them, create it for them!
Fd: Any time for fly fishing, Tom?
Tom
: My lifestyle when living in Montana was far more engaging with my outdoor interests than right now here in Spokane, however this area has terrific access to fishing and outdoor activities. Most my favorite spots are back in Montana and I try to get over there a couple times a year, it's not far from here, and also explore new areas here in Washington. The Steelhead and Salmon runs here are a unique aspect to living here, and I look forward to that.
Fd
:
Where can we find more about your artwork?
Tom
: 2014 marks my 35
th
years as a full time professional artist, a lot has happened over the years, as my business has focused on large format commissioned works for corporate interiors and residences, and branched out into numerous marketing niches. One thing that has been inconsistent over the years is marketing through galleries, most of them are gone and the turnover in retail marketing has been really affected by the ever changing economy, so artists like me have learned to
depend on themselves on keeping their dream alive.
The best place to see my work and learn a bit more about me is on my website and blog. It shows a Portfolio, Bio, Client List and online Store:
www.tomhansonarts.com
and there's the blog, a newsletter and it's a great source for my newest work and currentevents:
tomhansonarts.blogspot.com
I also have a number of galleries in Montana, Idaho and Washington right now, and I appreciate all they do for the promotion and sale of my work, but I like to keep my focus on my studio website and online store and encourage interested folks to contact me directly if they are not in the proximity of one of my retailers, that way I can give them the best customer service personally.